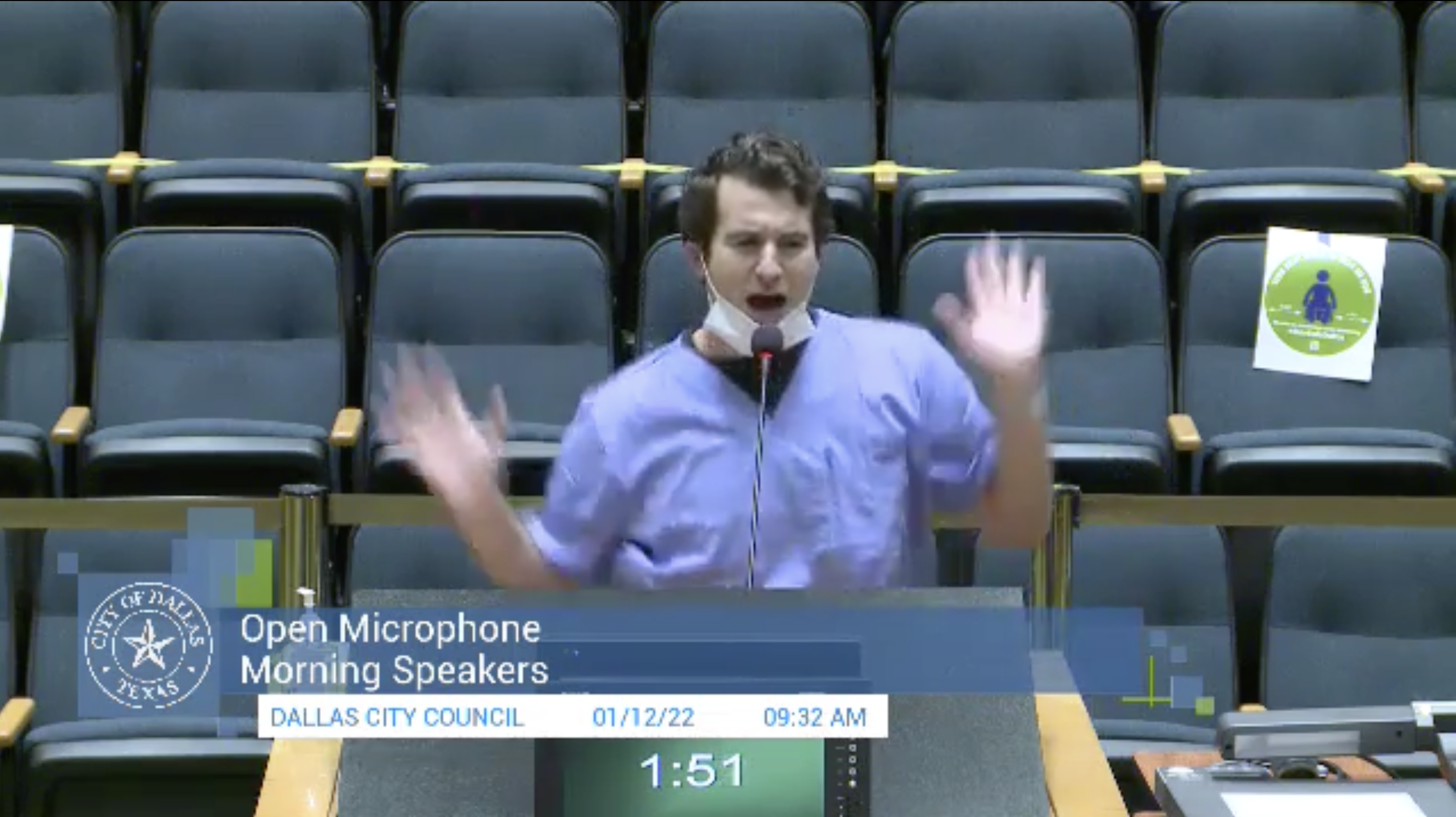 A man performs a COVID rap at City Hall's open mic
A moment during Dallas City Hall's open mic session left officials speechless and social media users in tears after a man performed a COVID rap in scrubs, asking the top expert in infectious diseases, Dr. Anthony Fauci, to "give me that ouchie".
Alex Stein, a YouTuber known for his frequent appearances at city council meetings, burst into a satirical performance at Wednesday's rally in a bid to make vaccines "more hip and cool" for kids.
Wearing a blue smock, Stein introduced himself and told members of the city council, "I'm here today because we have to vaccinate our children, you know, we really don't have enough vaccines, like if they weren't compulsory, and that's the problem, we have to impose these vaccines."
After some technical difficulties with the music part that was to play from his phone, he launched into an a capella rap.
"The real Dr. Fauci, please get up, get up, please get up," Stein began, parodying Eminem's hit "The Real Slim Shady."
"Vaccinate your mother, vaccinate your father. Vaccinate the happy, vaccinate the sad. Vaccinate your babies, vaccinate them even if they have rabies. Vaccinate my life, vaccinate my wife. Vaccinate your DNA. Vaccine created by the CIA. "
"Vaccinate your body. Vaccinate me at the party. Free vaccination. Weird vaccination," he continued. "I want the vaccine in my life. I want the vaccine for my wife."
Halfway through her performance, Stein began showering with hand sanitizer and wiping her face with Lysol wipes while continuing to rap.
"Vaccinate me in my thong. Vaccination good or bad," he sang. "Dr. Fauci, give me that ouchie."
"Vaccinate your mind. Vaccinate your body. Vaccinate your life. It's a vaccination party," he concluded at the end of the nearly 2-minute performance.
The rap videos quickly went viral. A clip of Stein has generated more than 2.4 million views on Twitter.
"The way I almost spit my coffee out laughing, I didn't expect all that now," one Twitter user wrote.
"Found my new ringtone," said another.
Speaking to the Daily Dot after his appearance at the town hall, Stein said: "I went up there and played the jester."
"I was really trying to pull a face and be stupid," he added. "I had no idea it would go super-viral so quickly."
But while many found Stein's satire amusing, some fell in love with his gimmick and thought he was a real nurse promoting COVID vaccines.
"TikTok nurses have started doing routines at city council meetings," tweeted Amy Tarkanian, former Nevada Republican Party chairwoman. "Here's a Texas nurse giving a one-of-a-kind performance."
Stein told the Daily Dot, "That's my favorite part. The real satire is you don't know if it's right or wrong."
But while joking about his audience, Stein added that "this virus is real, people are dying." Stein himself reportedly lost his mother to COVID in October. She was 60 years old.