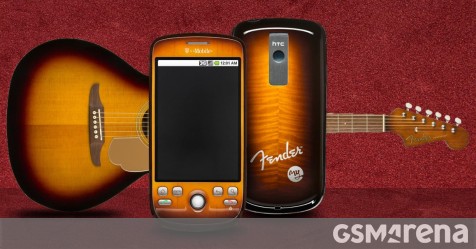 Flashback: Beyonce, American Idol, X-Factor and Fender-inspired phones
Samsung made a splash last year with the Galaxy S20 + 5G BTS Edition (and Galaxy Buds + BTS Edition), but that's no surprise – BTS are one of the most well-known music groups in the world right now and everything they touch draws crowds of fans. (even though it's a McDonalds meal). But that was far from the company's first attempt to use music superstars to promote its gadgets.
In 2007, Samsung (and Sprint) released the Beyonce theme B'Phone, a limited edition version of the Samsung UpStage M620. The phone had two sides – a simple-looking functional phone and a media player with music controls and a larger 2.1-inch 176 x 220px screen (well, bigger than the line screen that was the other side).


The B'Phone promoted by Beyonce • A regular Samsung UpStage, front and back
The exterior was changed to a gold and burgundy color scheme (designed by the singer herself) and offered exclusive downloadable content, including a song called "632-5792" (a phone number) that Beyonce has wrote when she was 10 years old. That was all. , however, if you wanted more songs, you had to load them to a microSD card yourself (cards supported by UpStage up to 2 GB).
Nokia also knew the value of celebrity promotion, but instead of going to just any celebrity, the Finns decided to throw in a wide net and in 2004 (in partnership with AT&T) released the Nokia 3200 and Nokia 3300 American Idol Limited Edition Phones. They were priced at $ 50 to $ 70 and sold in several music stores (eg, Sam Goody, Media Play, Suncoast).
The simple 3200 had nothing more than a branding – with no card slot, barely any memory, and no music player, there was little hope for it. The 3300 was another story, however. Regular Flashback readers will remember it as a sequel to QWERTY 5510 and as the "Black Phone," a special edition Jay-Z brand.
Years later, the company tried something similar with the Nokia 5228 X-Factor (in some areas the phone was known as the 5233). This Symbian-powered (resistive) touch-sensitive phone was a cheaper version of the 5800 XpressMusic, Nokia's first attempt to tackle the iPhone.

Nokia 5228 X-Factor Edition: yes, it looks the same, but it has preloaded content
Fortunately, this was in 2010, so the phone came with a standard 3.5mm headphone jack and a microSD slot (not MMC like the 3300). However, all you got with this Special Edition was the preloaded X-Factor app along with wallpapers and ringtones from the show.
Also in 2010, T-Mobile teamed up with legendary guitarist Eric Clapton to reveal the myTouch 3G Fender Limited Edition. HTC's Android 1.6 smartphone received a faux wood grain exterior with the Fender-branded Sunburst finish (even the included headphones have been customized).
A 16GB microSD has been preloaded with some of Clapton's best-known classics, including "Layla", "my father's eyes", "rock 'n' roll heart" and "Beautiful tonight". In addition, two applications are preinstalled: Guitar solo and Musical light.


The (HTC) T-Mobile myTouch 3G Fender Limited Edition with the Sunburst finish of the Fender brand
T-Mobile also offered ways to spruce up the device, including more Fender-branded backs, a Fender carrying case, and the Rock Dock, a docking station with built-in speakers. The operator also launched a media sync solution that allowed users to sync music, videos, and photos between their Windows or Mac computers and their phones (obviously T-Mo was looking for an alternative to iTunes).
The T-Mobile myTouch 3G Fender Edition was available at T-Mobile retail stores (and online) for $ 180 (plus tax and fees) with a 2-year contract.
Over the years, other phones have been promoted by famous music artists. A more recent example is the 2019 Galaxy A80 Blackpink Special Edition (BTS was not the first K-pop group that Samsung used for promotional purposes).
What's your favorite limited edition music themed phone?