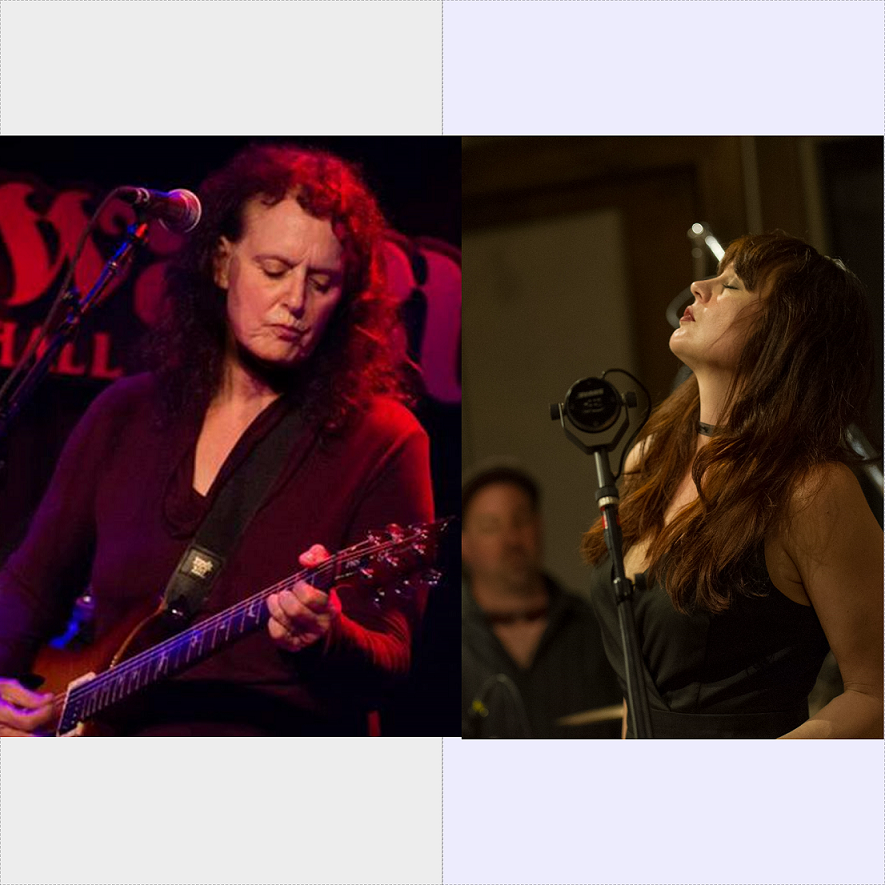 FOR DEBORAH GRABIEN AND LAUREN MURPHY, IT'S ALL ABOUT HISTORY
Deborah Grabien and Lauren Murphy are so simpatico these days that they practically finish each other's sentences in a joint interview. But without a chance meeting, the two Bay Area songwriters, singers and musicians might never have become such close comrades.
As Grabien recounts, the two had "traveled in the same musical circles" in the region, but their paths did not cross until guitarist Mark Karan put on a Valentine's Day show focused on love songs and the murderous ballads at the Sweetwater in Marin County.
"Lauren came in with a guitar and looked at me and said, 'You're Deb Grabien,' and I said, 'You're Lauren Murphy,' she said.
The duo spent the next day "eating pasta and sharing stories" at Grabien's in San Francisco, and after that, they wrote their first song together at Murphy's house at the time in El Dorado, sowing the seeds. of a friendship and partnership that led to them inviting them to do things like a double CD release in March, for Murphy's album "Psychedelics" and that of The Sound Field (with Grabien) "This Moment of the Storm ".
As Grabien puts it, quite poetically, "There's a nice little line between yin and yang, and you end up absolutely in the middle. We're both storytellers, and I want to separate that from being a songwriter – it's not the same. Writing songs is a skill. You can teach people to write songs. You can teach them to write lyrics. What you can't fake or teach, if it isn't already there, is the seed of a storyteller that makes the story grow.
The two also perform together in a group called Nasty Women and Bad Hombres.
Stories, of course, come from life experience, and Grabien and Murphy have both had more than their fair share. Grabien is a longtime author with MS. Murphy's husband, Justice Murphy, died in 2013 after a battle with liver cancer. He was the lead vocalist for the Bay Area Zero band, known for Steve Kimock's guitar work and collaborations with Grateful Dead lyricist Robert Hunter.
From a distance, the Bay Area music scene may look like a fortified Shangri La dominated by the Dead, Jefferson Airplane, and other stars, but it feels a lot more loose and welcoming than talking with Grabien and Murply.
"I'm speaking to you from Mobile, Alabama, even though I have an area code 415," Murphy says. "I still consider myself to be from San Francisco. My ringtone is Tony Bennett on the phone singing "I left my heart in San Francisco".
Karan, himself a Bay Area devotee (and co-producer of "Psychedelics"), made himself available to the Murphys during their darkest days.
"Judge and I met Mark in 2010 when Judge started her battle with cancer," she says. Karan, known for his work in Bob Weir's Ratdog and the '90s and early 2000s Dead, The Other Ones, told the singer he knew what it was like to face cancer in public. : someone in his group at the time disclosed that Karan had throat cancer.
"It's hard to go through illness, treatment and death in public," Murphy says. "People support you when you let your monsters come out of the closet in the front yard. And Mark is one of the people who came out.
Karen is playing on the two new female albums and has co-produced Murphy's with her.
Grabien doesn't mention his MS until we ask him to play a saz on "The Moment of the Storm". Concretely, what is a saz? This, of course, leads to a story.
"Around 2012, I was sitting talking to Jorma [Kaukonen] to Sweetwater, whom I had known for about 50 years, "she recalls. "I was diagnosed with MS in 2002, and the slide mojo just left town. Even now, fretting a guitar is no longer a reflex. The brain looks at the fingers and says, "Do this. It's amazing that I can play anything at this point. Jorma said to come and join Fur Peace, and I said, "But I'm not a slide player." And he said, "I know David Lindley! And I said, 'David Lindley? Why is Ry Cooder not available? ' He replied, "No, David teaches at Fur Peace Ranch and he teaches on the West Coast, would you like me to hook you up?"
Grabien had tickets to see Lindley two weeks later in San Rafael. She met him there and they quickly became friends. Later, she saw a video of Lindley playing a strange stringed instrument on her rendition of Steve Earle's "Copperhead Road". She emailed Lindley, found out it was a Turkish instrument called a saz, and ordered one for $ 169. Grabien and Lindley's saz playing on Irish bouzouki and lap steel adds to the deep textures of "This Moment of the Storm".
Interestingly enough, Grabien's relationship with Kaukonen isn't the only Jefferson Airplane connection the two women have. On "Psychedelics", Murphy includes a few covers: "End of the World Blues" and "Catalina" by Zero as well as the Airplane classic "Somebody to Love".
Murphy says, "I was playing the song at 10 am, having coffee in Sonoma. Darby Slick walks in and says, 'I'm Darby. I wrote that. And I said, 'I know.' He said, 'Do you mind if I buy a guitar? Can you replay that and do you mind if I play with you? ' 'Please.'"
"He's still a good friend of mine," she says. "And we wanted to work on a more aggressive version than the airplane, especially now [for her album]. "
Murphy recorded the album at Dauphin Street Sound in Mobile, the studio owned by former baseball pitcher Jake Peavy, guitarist and full-fledged Deadhead.
There are more stories. Like Grabien's older sister who coined the term Deadhead, maybe hang out with Hunter and end up in the "Truckin" of the Dead. Truly. Grabien said she got into a heated argument between her sister and Hunter at her sister's house. "I put you in my song," Hunter exclaimed, writing furiously, then threw down his pencil.
What happened to sweet Jane?
She lost her shine, you know she ain't the same
Living on red, vitamin C and cocaine
"But I don't take cocaine! his sister protested.
"You are doing it now," Hunter said.
Some stories are too good not to be shared, whether or not they become songs. And for Murphy and Grabien, it's history that always tops the table.
"We never start from a polite or wrong place," Grabien explains. "At the end of the day, if you're a storyteller, your story owes you nothing. You owe your story. You are at the service of your story, and not the other way around.
From left to right, Deborah Grabien (Courtesy of The Sound Field) and Lauren Murphy (Photo credit: Tom Dellinger)