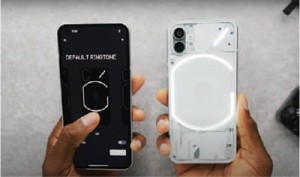 Here's everything we know about Nothing | Print edition
Views) :
By Mahesh DeAndrado
You would think that naming a company "Nothing" wouldn't generate much interest. But in the contrary. Founded by Carl Pei, Nothing Technology Limited (or simply Nothing) is a London-based consumer technology company. In case you missed it, Carl Pei was one of the founders of OnePlus alongside Pete Lau and was also the head of OnePlus Global. He left OnePlus in 2020 to work on Nothing (no pun intended). The company currently has a roster of reputable investors, including iPod inventor Tony Fadell, Twitch co-founder Kevin Lin, Reddit CEO Steve Huffman, and YouTuber Casey Neistat. The company launched its first product, the Nothing Ear 1, a set of wireless headphones on July 27, 2021, and is now set to launch its own smartphone as well. Her name? Yes, it's the Nothing Phone 1 (who would have thought?)
Nothing is right here!
Given that the Nothing Phone would come from a line of impressive smartphones such as the OnePlus One, you'd think it would bring a lot to the table, and you're right, but not quite right either. For starters, the device features a transparent design, much like the Nothing headphones. So you can pretty much see the heart and brain of your smartphone, which is pretty cool. Additionally, the rear of the Nothing Phone consists of 900 tiny LEDs that make up a Glyph interface. The LEDs are split into different zones and can be configured through the phone's settings app to light up and vibrate to the device's different ringtones and notification tones.
A new concept indeed, but which also raises a host of questions. For example, how will this affect the battery life of the phone? What if you're in a movie theater or a dark room and your phone lights up like a bat signal? These are some of the points that could cause problems, but we'll have to see how it actually works.
Moving on to the rest of the Nothing Phone specs, it will pack a 6.55-inch 120Hz OLED panel, 50MP + 16MP rear camera, and 16MP selfie camera. Everything will be powered by a Qualcomm Snapdragon 778G Plus, supported by 8 GB of RAM and 128 GB of internal storage. It is not yet known whether the storage is expandable or not. A 4,500mAh battery capable of charging up to 45W will keep it all going. We don't know if the phone will come with a 45W charger or if it will be sold separately.
Isn't there anything to be excited about?
In all honesty, however, the specs were a bit underwhelming for me, especially in the processor department. If it was at least a Snapdragon 860 or even an 865, it would have made more sense given the power and power efficiency of these chips. The 8GB of RAM also makes sense if you're the type of person who switches between lots of apps. The 120Hz OLED panel (again kind of becoming the norm now) helps make your apps, movies and photos vibrant and also smooth as you scroll through Instagram or Facebook. But we don't know who the panel maker would be and if Nothing uses a lower screen to cut corners and cut costs. If you're low on juice, a 45W charger should keep your phone running like nothing (again, no pun intended). But again, we don't know if the phone will come with a charger or if you'll have to buy one separately.
How do I get my hands on a Nothing phone?
Well, this is where things get even more interesting. For starters, the Nothing Phone 1 won't sell in the US. According to a representative from Nothing, "While we would like to bring the phone (1) to the wider community across the world, we are focusing on national markets, including the UK and Europe, where we have strong partnerships with the main local operators.
Instead, 100 Nothing phones were auctioned on StockX. As a result, Nothing will select the 100 highest bids and send 100 serialized devices to those 100 lucky winners. Carl Pei also stated that the Nothing Phone 1 will only be available through an invite system. The device is rumored to cost around $397 and $456 depending on the storage and RAM configuration. There were also rumors that the Nothing Phone 1 might have offline sales in India, but that also remains to be seen. The phone will be launched on July 12, 2022.
What do you think of the Nothing Phone 1? Excited? Disappointed? Let us know.
Looking for your next furry family member but can't find one in your area? Hitad.lk has the solution with our many lists of dogs for sale in Sri Lanka!