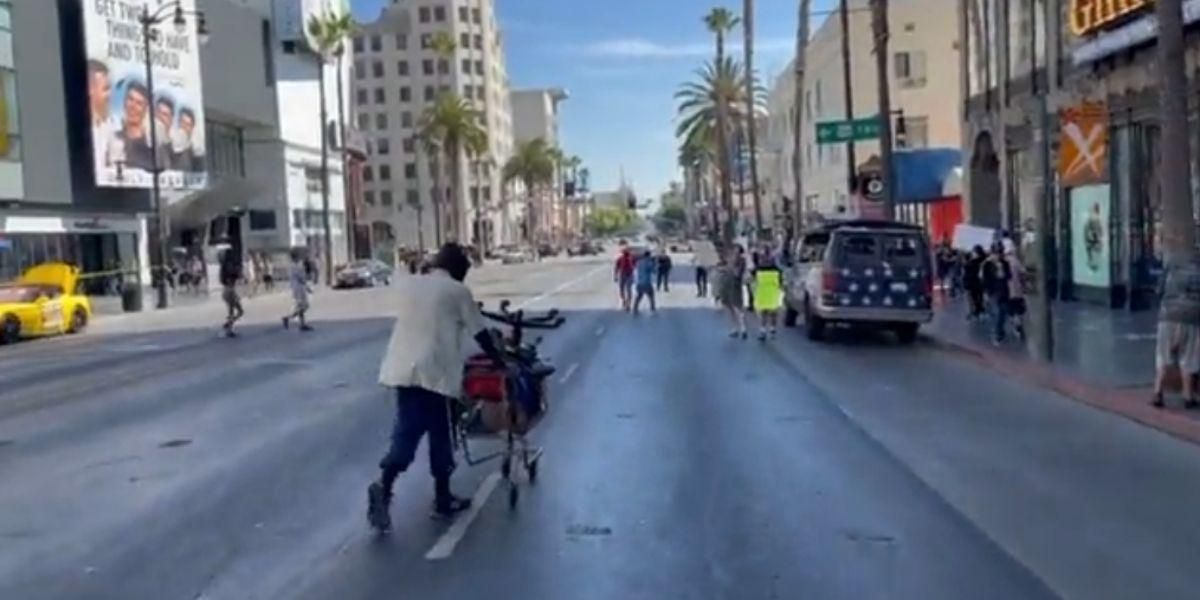 Homeless man shouts "Because I'm vaccinated" to Anti-Vaxxer: VIDEO
A homeless man's swift response to an anti-vaxxer protester who tried to use him as an example to prove his point got people applauding on Twitter.
The protest was led by a woman shouting conspiracy theories into a megaphone.
When she tried to involve a local homeless man named Ray in her rhetoric, asking him why he hadn't died from the virus, he immediately shut her up, yelling a very simple response: They are vaccinated.
See the moment below.
WARNING: NSFW language
The protest took place Saturday morning on Hollywood Boulevard in Los Angeles.
It didn't appear to be very busy. But with the megaphone in hand, the group leader still made a lot of noise.
As she and the group passed Ray, who was walking down the street with his things, the woman decided to involve him and other homeless people in the area in her rhetoric.
Without asking – and talking about them as if they were inanimate objects that couldn't hear her – the woman bellowed:
"Do you see all these homeless people around. Did they die on the streets because of Covid? Hell no! Why ? "
Ray immediately yelled back:
"Because I'm vaccinated, asshole!"
The woman, seemingly unfazed by the truly epic clapback she had just received, simply continued to shout her conspiracy theories.
The man who filmed the meeting was able to catch up with Ray a few hours later.
In a video shared in a follow-up Tweeter, he was able to learn a little more about him and thank him for his big comeback to the anti-vaxxer who tried to use him to spread his conspiracy theories.
"Ray has given the whole country, honestly internationally, not only a good laugh, but honestly sends a strong message."
He also set up a GoFundMe for Ray to help him get ID, a cell phone, and money to get back on his feet.
On Twitter, Ray quickly became a hero for his quick response to the anti-vaxxer.
As of this writing, GoFundMe for Ray has raised over $ 17,000.
Hope this serves our new public health hero well.
/ gmi, "); strz = strz.replace (/?w(?:[^"'>]| "[^"]* "| '[^']* ') *> / gmi,' '); strz = tagz.textContent.replace (/ u' / gi, ""). replace (/ '/ gi, ""); tagz.textContent = "";} return strz.replace ('[',").replace(']',' '). replace (' ~ popular_source-pageview ',' '). split (', '). map (s => s.trim ());} let script1 = document.createElement (' script ') ; script1.src = "https://recirculation.spot.im/spot/sp_AYcpkZr5"; script1.async = true; let script2 = document.createElement ('script'); script2.src = "https://launcher.spot.im/spot/sp_AYcpkZr5"; script2.id = "spotim" script2.setAttribute ("data-spotim-module", "spotim-launcher"); script2.setAttribute ("data-post-id", "homeless-man-anti-vaxxer-protest"); script2.setAttribute ("data-article-tags", decodeTags ("[u'anti vaxxer', u'protest', u'homeless', u'vaccine', u'pandemic', u'~popular_source-pageview']")); script2.setAttribute (" data-post-url "," https://www.comicsands.com/homeless-man-anti-vaxxer-protest-2655253384.html "); script2.async = true; console .log ('TAGS DECODED BELOW'); console.log (decodeTags ("[u'anti vaxxer', u'protest', u'homeless', u'vaccine', u'pandemic', u'~popular_source-pageview']")); const container = document.querySelector ('[data-spotim-module="recirculation"]'); container.parentElement.insertBefore (script1, container); container.parentElement.insertBefore (script2, container); });