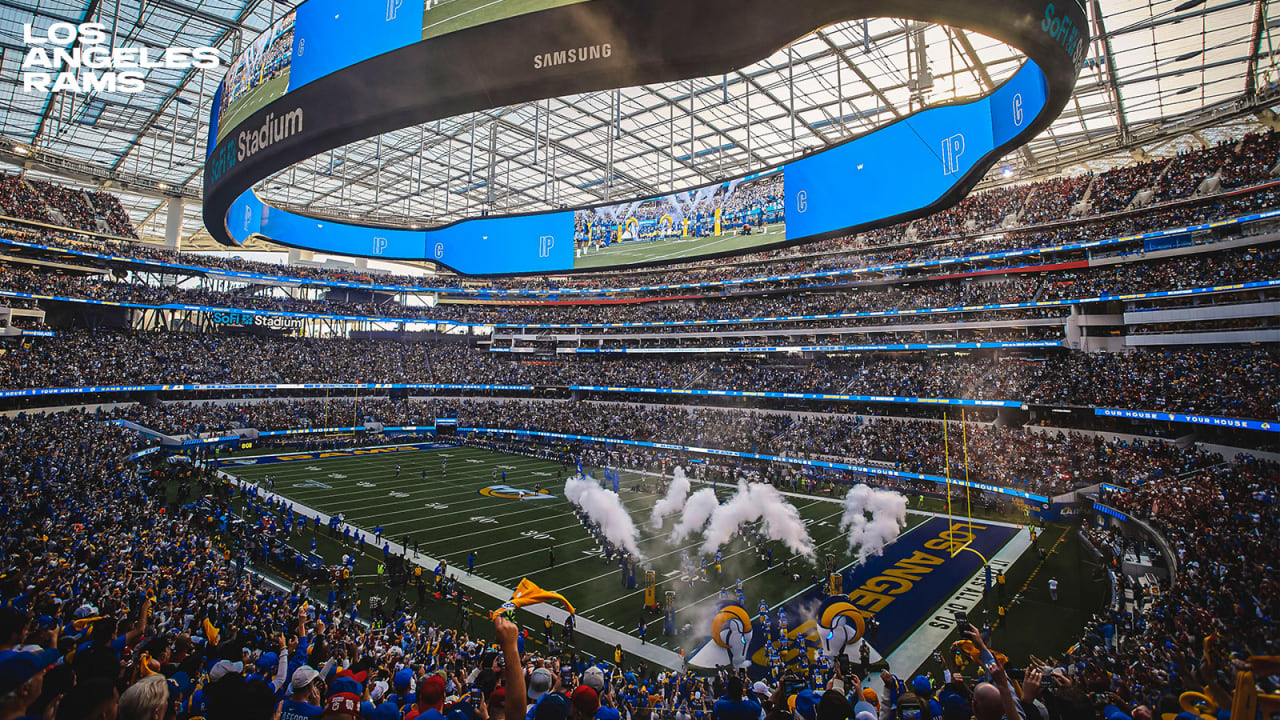 Know Before You Go: Rams vs. Bills
The Rams are scheduled to face the Bills Thursday night at 5:20 p.m. PT at SoFi Stadium, and with game day fast approaching, here are some helpful reminders and things to know before you head to Inglewood and the Rams. House.
Before heading to SoFi Stadium, make sure you have a bag that adheres to the NFL's Clear Bag Policy and have your mobile tickets downloaded to your mobile device (this will be important to ensure smooth entry into the stadium – more details below). Screenshots or printouts of tickets are not allowed. For help downloading your tickets, see our Mobile Ticketing Guide.
Also, be sure to arrive at SoFi Stadium early to avoid major traffic delays, given the weekday kickoff. If you have pre-purchased parking, all lots will open at 1:00 p.m. and the pink zone will open at 12:00 p.m. Tailgating is only permitted in the pink zone. If you do not have prepaid parking, please note that on-site parking is full and you should check out carpooling, public transit, and offsite parking options.
Once you arrive at SoFi Stadium, you can enter the stadium from 3 p.m. This year we have a new entry process including free standing ticket scanners and Evolv security screening. Pedestal scanners let you easily enter by tapping your phone (if the ticket is downloaded to your mobile wallet) or scanning your barcode (if the ticket is on the web or mobile app). Once you're scanned, you can easily browse Evolv security filters without taking anything out of your pockets. For more information on the registration process, go here.
Once inside, the first 70,000 fans in attendance receive a replica championship banner modeled after the Super Bowl championship banner. If you enter SoFi Stadium early, you can enjoy an "early entry fare" from 3-4 p.m., which includes $5 beers, $3 soda and water, and $5 hot corn at American Airlines Plaza on the south side and in the hall inside the north entrances. Plus, there are fan activations at American Airlines Plaza, including Ramp'd Up, a space that lets you gear up on game day with free face painting and hair decorating.
For our younger fans, there's Rams Land Kid Zone, a space between Entrances 1 and 2, featuring a soft play area, tumbling space, vertical jump, and a pre-game Rampage appearance. After enjoying pre-game activities, be sure to be in your seat by 4:50 p.m. for pre-game performances by Tinashe (National Anthem) and Halle Bailey (Lift Every Voice and Sing) on ​​the field and the unveiling of the Rams Super Bowl LVI championship. banner!
The Rams, defending Super Bowl champions, kick off against the Buffalo Bills at 5:20 p.m. At halftime, there will be a performance by Grammy Award-winning artist Ozzy Osborne.
For complete information on game days, check out our Gameday page and our A-Z guide.