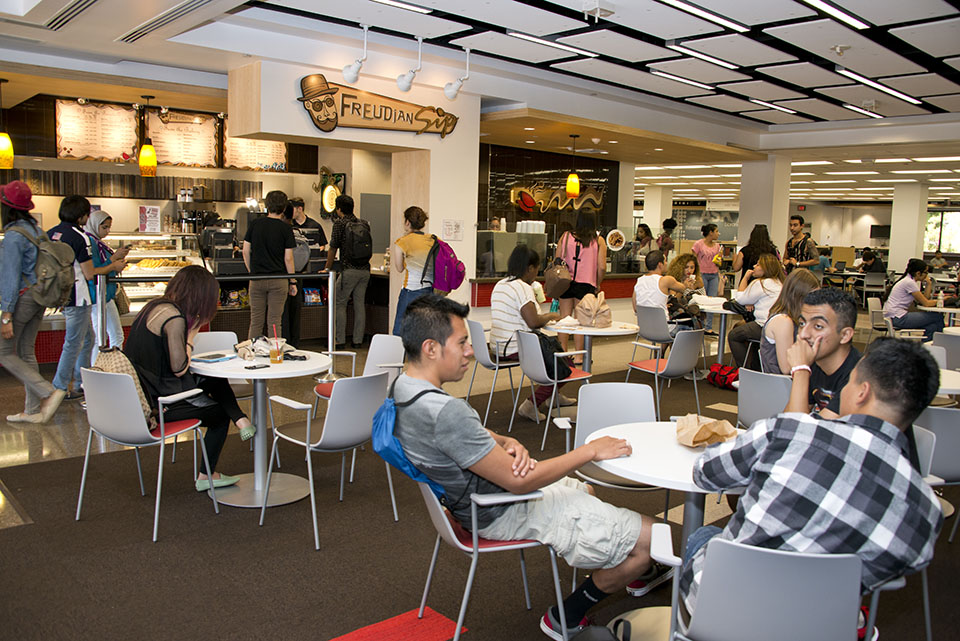 Materials for matadors – Useful resources in the university library
Whether you're a brand-new matador or a former student, you'll want to familiarize yourself with all that the university library has to offer. Need a quiet place to study? Or a place where you can meet a group to discuss a project? Do you need audio equipment for a mission? A laptop? A sewing machine ? A cup of coffee? All of these things are available to CSUN students, all under one roof.
Brianna Limas is the new outreach librarian in the University Library's Research, Teaching and Outreach (RIOS) department. She focuses on making resources available to the community and organizes tours and library programs. Her too writes for the library's blog, "Cité à la Bibliothèque", to help promote services and events. Limas said libraries have come a long way from what we may all have experienced in the past.
"Nobody really gets shushed in the library these days…at least not on the first or second floor," she said. "At the library, we really want to invite the community to come in and just be present and engaged," she explained. "As the semester begins, I hope people across campus will feel welcome to stop by, grab a coffee, and have a chat; you can see what's happening in the Learning Commons, check out the book racks, or talk to a librarian at the reference desk. We are here to help you !
Limas said she wants students to know that the library can meet their needs.
"The library is a place where conversations about equity and accessibility are constantly happening and are always relevant. these values ​​are truly at the heart of the field of librarianship.
So what is she looking forward to discovering at her new workplace?
"I'm excited to plan events and gatherings in the AS/RS (Automated Storage and Retrieval System) viewing room and attend workshops in the Creative Maker Studio. The card collection is also very cool. I have a checklist of places in the library that I look forward to visiting more often: the Gohstand Leisure Reading Room, the Music and Media and Teacher Program Center, Special Collections and archives and the library exhibit gallery are definitely at the top of my list of places of interest in the university library.
If you haven't been to the University Library yet or it's been a while, here's a roundup of some key information:
Hours
Regular weekdays: 7:45 a.m. – 10:45 p.m.
Fridays: 7:45 a.m. – 6:45 p.m.
Saturdays: 12:00 p.m. – 4:45 p.m.
Sundays: 12:00 p.m. – 7:45 p.m.
Extended hours for final exams: 7:00 a.m. – 2:45 a.m.
Study rooms
Sizes – There are two types of study rooms that students can choose from: Individual or Group. Individual study rooms can accommodate up to two students while group study rooms can accommodate two or more students.
Reservations – A reservation must be made online on the CSUN library website. Rooms can be reserved up to two days in advance. Keep in mind that if the student does not arrive within 10 minutes of their reservation time, their reservation may be cancelled.
Time slices – Individual rooms have two-hour time blocks and group rooms have a one-hour time block.
To reserve a study room, visit https://csun.libcal.com/.
Payment for laptops, tablets and devices
Laptops, tablets and access points – Specific devices that can be checked are: HP EliteBook 830 G5, HP EliteBook 840 G3, MacBook Pro 2017, MacBook Pro 2019, iPad (128 GB with keyboard) and the T9 Franklin Mobile Hotspot. These devices can be borrowed for one semester.
Graphing calculators – TI-84 Plus calculators can be borrowed for two-week periods.
Chargers, adapters and other accessories – Various phone and MacBook chargers, adapters, HDMI cables, disc players/writers and headphones are available for use on site only for a period of three hours.
Printing in the laboratory
Students can print materials from multiple printers throughout the library. Prices vary depending on paper size and whether it is black and white or color.
Creative Creator Studio
Media Equipment Crate – Cameras, tripods, microphones, green screens, graphics tablets, keyboards and more can be borrowed. Some equipment can be borrowed for two weeks and others for three hours.
3D printing – Students can create 3D prints for free! Book a 30 minute consultation appointment online and a CMS wizard will review your template and get it started for you. An email will be sent once the pattern is complete.
audio recording studio – The recording studio is complete with all the equipment needed to record podcasts, music and more. The studio can be reserved up to two weeks in advance, and the studio can accommodate up to four people.
There will also be significant changes to the University Library course reserves (which are classroom materials, such as textbooks, that can be reserved for courses taken at CSUN), Periodical and Microfilm Collections (RPM) according to the library's website. They will be moved from the fourth floor, east wing, to the ground floor.
Class reservations are now shelved and verified at the Guest Services Desk, located in the lobby. Teachers can deposit personal copies of books, etc. to reserve at the Guest Services desk or contact the reservations staff at (818) 677-3282 or [email protected] for more information.
Recent issues of print periodicals and newspapers are stored in the Learning Commons alongside bestsellers and reference collections. The scanners are located in the Learning Commons.
All microfilm, including Daily News, can be requested from AS/RS storage via OneSearch and retrieved in approximately 10 minutes from the Customer Services Desk. A self-service microfilm reader/scanner is located in the Learning Commons next to the reference desk.
To learn more about the University Library's Learning Commons, visit https://library.csun.edu/learning-commons.
Some library features that were closed due to the pandemic will also reopen this fall semester.
The Freudian Sip Coffee Shop – located on the ground floor near the entrance.
The Gohstand Leisure Reading Room – located on the second floor.
Follow @CSUNLIBRARY University Library and @CSUN_CMS Creative Maker Studio on Instagram to keep up to date with the latest news!