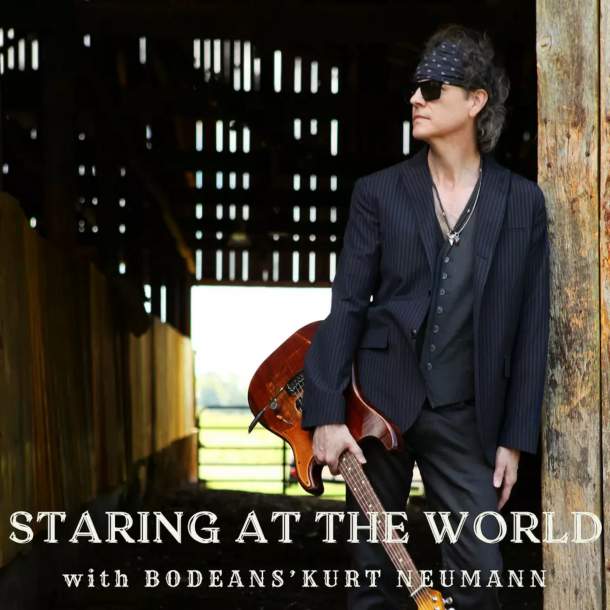 Podcast "Looking at the World, Kurt Neumann from BoDeans" debuts on 10/27/2021
"Kurt Neumann of BoDeans is launching a visual interview-focused podcast on 10/27/2021. Staring at the World will focus on the creative element with some of the most innovative and creative voices in the world. "
In Staring at the World, BoDeans' Kurt Neumann delves into conversations with innovators, celebrities, investment gurus, music industry giants and scholars. The podcast aims to shed light on how embracing the creative element and cultivating creativity inspires thought outside the box and brings innovation to the world.
The first four guests are: Steve Sims, author and luxury concierge; Miles Copeland, longtime director of The Police and Sting; Kenny Aronoff, world-class drummer and songwriter; and acclaimed rock'n'roll photographer Bob Gruen.
Miles Copeland: Maverick music manager and taste maker, best known for managing Sting and The Police and founding IRS Records where he discovered REM and The Gogos. Miles Copeland talks about the creation of Roxanne by the police and how it came about and shares more on the art of doing yes! How he secured recording contracts for his artists who have become well known artists in the industry.
Steve Sims is the founder and CEO of luxury concierge service Bluefish. In 2017, Sims published a book, Bluefishing: The Art of Making Things Happen. Steve is known to be a powerful speaker, business coach, brand designer and creative disruptor as he puts it. Steve gives advice on how to get the ball rolling in your favor. Sims is known to have worked with Elon Musk, The Pope, John Paul DeJoria, Richard Branson, and Elton John to name a few.
Kenny Aronoff: Talks about serving the bands he played with what he learned in order to play with the best. What are John Mellencamp, Sir Paul McCartney, Ringo Starr, The Rolling Stones, Lady Gaga, Bruno Mars, Sting, Bob Dylan, Bruce Springsteen, Bob Seger, Dave Grohl, Elton John, Johnny Cash, Willie Nelson, Jon Bon Jovi, Steven doing Do Tyler, The Smashing Pumpkins, Meatloaf, BB King, Rod Stewart and John Fogerty have in common? All of these rock 'n' roll superstars have performed with Kenny Aronoff as the drummer, keeping the beat in the studio or on the road. Kenny is also an influential speaker and bestselling author "Voted One of the 100 Best Drummers of All Time" – Rolling Stone Magazine
Bob Gruen: Bob Gruen is one of rock and roll's best known and respected photographers. From John Lennon to Johnny Rotten; muddy waters at the Rolling Stones; Elvis to Madonna; Bob Dylan to Bob Marley; From Tina Turner to Debbie Harry, he's captured the music scene for over forty years in photographs. As chief photographer for Rock Scene Magazine in the 1970s, Bob specialized in candid and behind-the-scenes photo reporting. He has toured extensively with emerging punk and new wave groups including the New York Dolls, Sex Pistols, Clash, Ramones, Patti Smith Group and Blondie. Bob has also worked with major rock groups such as Led Zeppelin, The Who, David Bowie, Tina Turner, Elton John, Aerosmith, Kiss and Alice Cooper. Recently, Bob has photographed the European tour of Green Day, Yoko Ono / Plastic Ono Band, Iggy Pop, Ozzy Osbourne, AC / DC, Jesse Malin, Ryan Adams, Courtney Love, The Strypes and more.
Staring at the World Podcast with Kurt Neumann from BoDeans is available on all major platforms including Spotify, Apple Podcasts, Google Podcasts, iHeart Media and YouTube. New episodes every week.
BoDean's decades-long career includes numerous chart-topping hits and they are part of a permanent installation in the Rock 'n' Roll Hall of Fame Museum.
Watch the teaser HERE: https://youtu.be/AlECbBxVpl4
Podcast links:
https://podcasts.apple.com/us/podcast/staring-at-the-world-with-bodeans-kurt-neumann/id1589696119
https://www.youtube.com/c/BoDeansOfficial
www.iheart.com/podcast/263-staring-at-the-world-with-87932169